THE GROWING INTEREST
Fashion can be defined as... "something which goes in one era and out another" and there is no doubt that public interest in transport art has experienced a dramatic resurrection in recent years. As a reaction to the unimaginative and clinical 'plastic' era of travel decor in the 70s and 80s there has been a surge of interest in the nostalgia market of railway posters, travel posters, transport art and carriage prints. The press, too, are keen to report on instances when piles of old posters are discovered under beds and in the attics of retired railwaymen. The Independent even printed an article entitled... "ART COULD TAKE THE PAIN OUT OF PUBLIC TRANSPORT" (14 Jan 1992), which gave details of a commissioned study into the place of art in today's travel and a return to a more "pleasurable, aesthetic and educational experience".

As an result of this new wave of popularity, a growing demand for the old framed carriage prints, photographs and railway publicity has emerged. Prints of locations holding nostalgic memories of past holiday and local places of interest are bought for increasingly high prices in auctions and antique shops.
It may come as a surprise to many people, though, to hear that the railways have always sold their carriage prints to the public. From the early days of carriage panels, they were advertised and sold publicly as in the case of the GWR in 1907 who sold their pictures for one shilling each and advertised them in their Holiday Haunts booklet of that year. In 1937 the LNER, too, advertised their new mounted prints of etchings in the Railway Magazine and offered them at ten shillings and sixpence each, a very large sum of money in those days. After the war the LNER continued to sell their numerous prints, usually in sets of six, stapled together inside covers in booklet form. Later on, BR continued this policy, selling them from various outlets including the Regent Street Travel Centre in London. The issuing of these prints in booklets avoided the problem of 'purchase tax', as books were exempt from this, whereas individual prints were not.
WHAT HAS SURVIVED?
i)Prints & Photographs: All the above data raises the question - what has survived from the countless thousands of panels of photos and prints issued by the railways since the turn of the century?
It is only in recent years that interest in collecting carriage panels has flourished, hence there are relatively few remaining early examples of these in existence. Only a small proportion of the photographic panels have been salvaged, especially from the pre-grouping companies, although it is often surprising how well preserved many of them are considering the effects of temperature changes, smoke, damp and general wear and tear they had been subjected to over the years. The dullness of the black and white and sepia photos probably gave little incentive to anyone to salvage the panels and therefore most were scrapped at the same time as the stock itself.
The colour prints were a different proposition, however. Being a more recent implementation in carriages meant that, not only were there some salvaged from the panels in coaching stock, but also that many were still held in store rooms, unused, at the time that BR abandoned the use of carriage panels. Hence, whilst a very small proportion survived from the coaches themselves, many were recovered from the stores - usually in mint condition.
Those taken from the carriages in their original frames often carry patches of damp stains on them and have faded due to the sunlight and, in the case of some of the LMR series, were sometimes pasted directly onto the glass itself by the carriage depots.
The number of prints that survived seems to vary enormously in terms of the different series. Whilst, for example, hundreds of post war LNER and ER prints were salvaged from York and Liverpool Street stores, far fewer of the Southern, Western and Scottish Regions' ones seem to have survived. A listing of all the carriage prints issued by the railways is available from this web site.
The prints of etchings and paintings which appeared before the war, including the original LNER etching series by Mason and Barraud, are more scarce and sought after. These were all probably taken out of the coaches and disposed of when the wartime adverts replaced them. Certain stocks of other individual print subjects were sometimes used up, too, and hence there appear to be few of these particular ones on the market in good condition. At the moment, though, it seems that enough have survived for the majority of people to be able to acquire the print that they're looking for.
ii)Frames: I am not convinced that G.K.Chesterton's opinion that... "art consists of limitation - the most beautiful part of every picture is the frame" really holds true as far as the later carriage panels were concerned! The frames were mainly designed with function in mind far more than for any aesthetic consideration. A number of these carriage panel frames have survived; either through being sold with the prints 'in situ' via the sales outlets of BR, or as scrap material sold through the carriage depots when the stock was condemned. I have even seen complete sections of LMS hardwood carriage partitions, with the panels set in the middle, on sale in antique shops - a particularly heavy picture to hang on the wall! Frames which survive vary from the older pre-grouping or 'Big Four', more ornate moulding style to the far more numerous and standard, 'screw in the wall' BR type, complete with their recessed brass 'turn buttons'.
iii)Original Artwork: So much for the prints and frames; what then has happened to the original artwork?
As BR obtained the paintings at the time of commissioning, the artwork was kept by them and then seemed to end up in all sorts of places. Some appeared as pictures on office walls or were even given as gifts to staff. A large proportion, however, were simply stacked in piles on the publicity office shelves gathering dust.
The Hamilton Ellis Travel-In series originals were hung on the office walls of the P.R.& P.O. officer, George Dow at Euston, Birmingham and Stoke on Trent before they found their way to Clapham Museum and, later, to York Museum where they now have a permanent place.
The LMR Historical gouache paintings are all owned by private collectors, as are most of the Railway Architecture and some of the LNER series.
Other originals are sometimes seen in fine art auction houses, such as Sotheby's, and fetch fairly high prices. The listing of all known carriage prints in Appendix B of Landscapes under the Luggage Rack also contains information on the original artwork known to exist and if any readers know of the whereabouts of any more carriage panel artwork, I would be pleased to know of their existence so I can update my records. Contact details button at top of the page.
Having seen what is available, let's now look at how you can go about collecting carriage prints, and the best sources to purchase them from.
COLLECTING CARRIAGE PRINTS
There seem to be no rigid rules about collecting carriage prints. Some people prefer them framed, others unframed; some collect a series and some acquire the works of a favourite artist or those of a particular area. Unlike many railway relics such as cast iron signs, the prints have an aesthetic quality which will equally appeal to both sexes - no need to secretly smuggle carriage prints into your home past the watchful eye of the lady of the house! They should certainly hold their value too, which makes them a good investment, and they're particularly suitable for gifts - as the sign in the antique shop said - "There's no present like the past".
It is not uncommon to see the occasional carriage panel in antique shops, but by far the best way to obtain them is through the railway collectors market. Thousands of people collect old railway memorabilia and the interest in carriage pictures amongst these collectors has spread rapidly over recent years. Various well-run auction houses hold specialist railway relic sales around the country at regular intervals throughout the year, too - the largest and most well known, being at Sheffield. Framed carriage prints come up for sale in these auctions.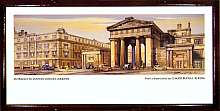 My many years of collecting have meant that I often have surplus prints from my personal collection available. If you have prints for sale or exchange then do e-mail me at greg@carriageprints.com
PRICE RANGES
It would be unwise to quote likely prices for carriage panels, however approximate, as these can change considerably, even in a short space of time. The price of prints is largely dependant on condition, rarity, demand for certain areas or locations and whether they are in original style frames or not. Unframed prints are obviously a little cheaper. A Price & Rarity Guide to Railway Carriage Prints is produced, giving full information on prices realised in auctions.
The original artworks for the prints are certainly valued highly and quite understandably so, as they are unique records. These, then, will sell for high prices and it is worth keeping a look out for them, not only in railway auctions but in art sales generally - you never know, a bargain may turn up!
REPRODUCTIONS
At present, the only colour prints to have been reproduced over the years are the Travel-In series. These were replicated in a smaller (21¼ inches x 6¾ inches*) size for an American restaurant chain. The LNWR Brinklow canal print in the same series was also reproduced (in 22 inches x 7 inches*) by the British Waterways Board - a slightly smaller size than the original series which was 23 inches x 7½ inches*. Again in the same series, the Travel in 1865, West Coast Express at Shugborough Tunnel was also reproduced, full size, for an anniversary of Wolverton Works. [* picture size, excluding border]. The Friends of the National Railway Museum have also reproduced a number of the Travel In series, full size and are marked as reproductions. Various carriage maps have also been reproduced over the years.
I am fortunate in having a copy of all the original prints and, by comparing the paper, colour, and type of lithographic process used, can differentiate between an original and a reproduction.
THE FUTURE
It seems certain that the number of collectors of carriage prints and panels will continue to increase over the years. This observation is based on the growing interest shown in them by many people, including the general public who have little interest normally in old railway items. Whenever I have shown friends or visitors the pictures, I've been surprised at just how many people do have a fondness for them. Constant remarks such as ..."Oh I remember those when I used to travel to..." or "I used to like the one of..." are often heard. I suppose it is not so surprising really - they must have been some of the most 'gazed at' pictures ever - even if they weren't always appreciated at the time.
You may be aware that the railways have, relatively recently, resurrected the idea of pictures in railway carriages, and the decor in many electric units now includes very simple drawings of locations by textile designer, Edward Pond, and other artists, which have been screen printed on to the coaches' veneer bulkheads. Whilst not really in the same category as the steam age, fine art panels, they are, at least, a move in the right direction. Who knows what will follow... Lowry's under the luggage racks.